This weekend I went to BritMums or #BML16 as they called it this year! A couple of people see me snapchatting and were confused about where to even start.
Snapchat has to be one of the fastest growing social networks around (I have no evidence to prove this but take my word for it), I get why, it is not just for the youth to share naked pictures of themselves on (it got some bad press about this at the beginning), but has grown into a great tool to share your brand (if you are a brand or a blogger even) and another useful tool to interact with your audience, be it friends or social connections.
I am guessing that if you are reading this you are either a beginner to snapchat, don't use it at all or are just being nice and reading the blog, either way thanks! If you haven't signed up a word of warning to start....
Choose your username carefully as it cannot be changed once its setup!
For me this is easy as I am dadyougeek on everything!
I am going to take it that you are not completely inept and have downloaded the app and signed up! So what now? Where to start the beginners guide...... good bloody question?
Settings
This is probably a good place to start, to get to settings click on the ghost, you will be presented with your profile, glimpse where you can see who has added you, where you click to add friends as well as view your friends list. The top right is that familiar gears icon taken you in to the wider settings menu.
Here you can change your name (not your username) and other personal information, make sure that filters are turned on under additional services, if not then you won't be able to post those silly pictures that everyone on social media is sharing.
Sending Snaps!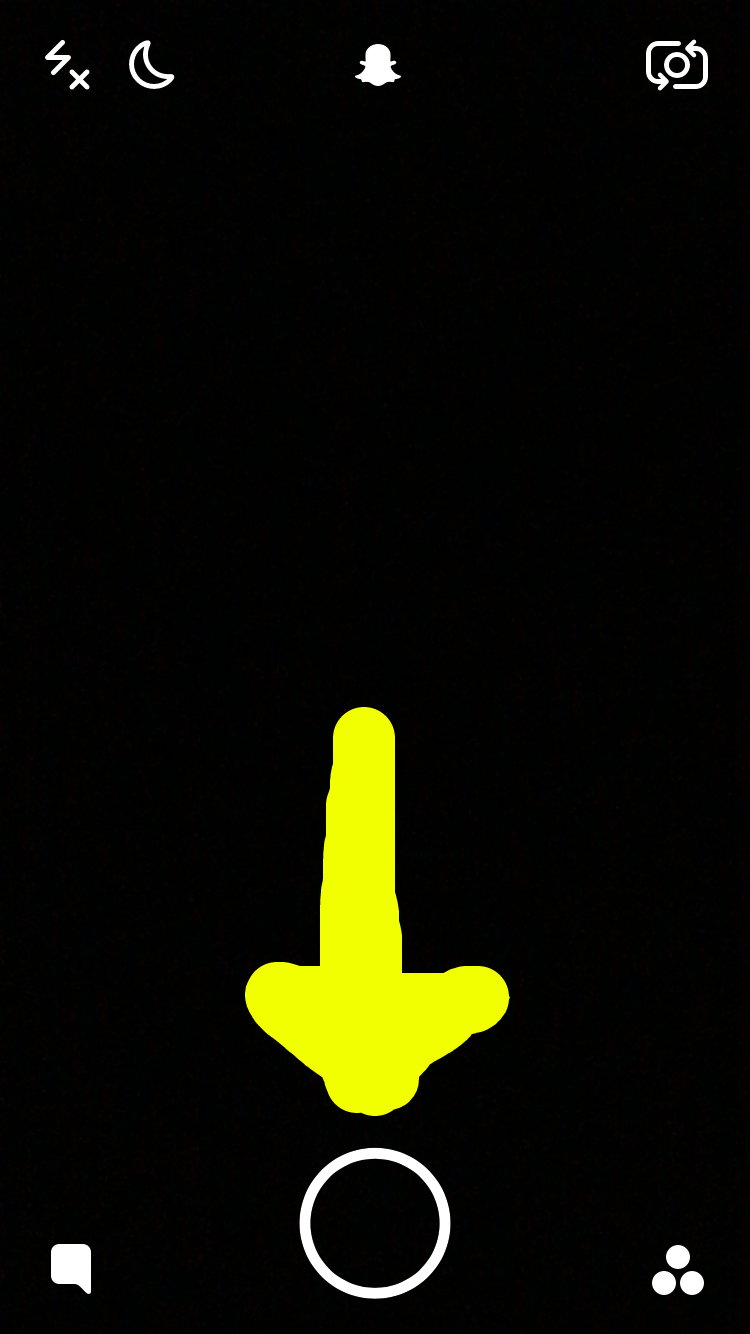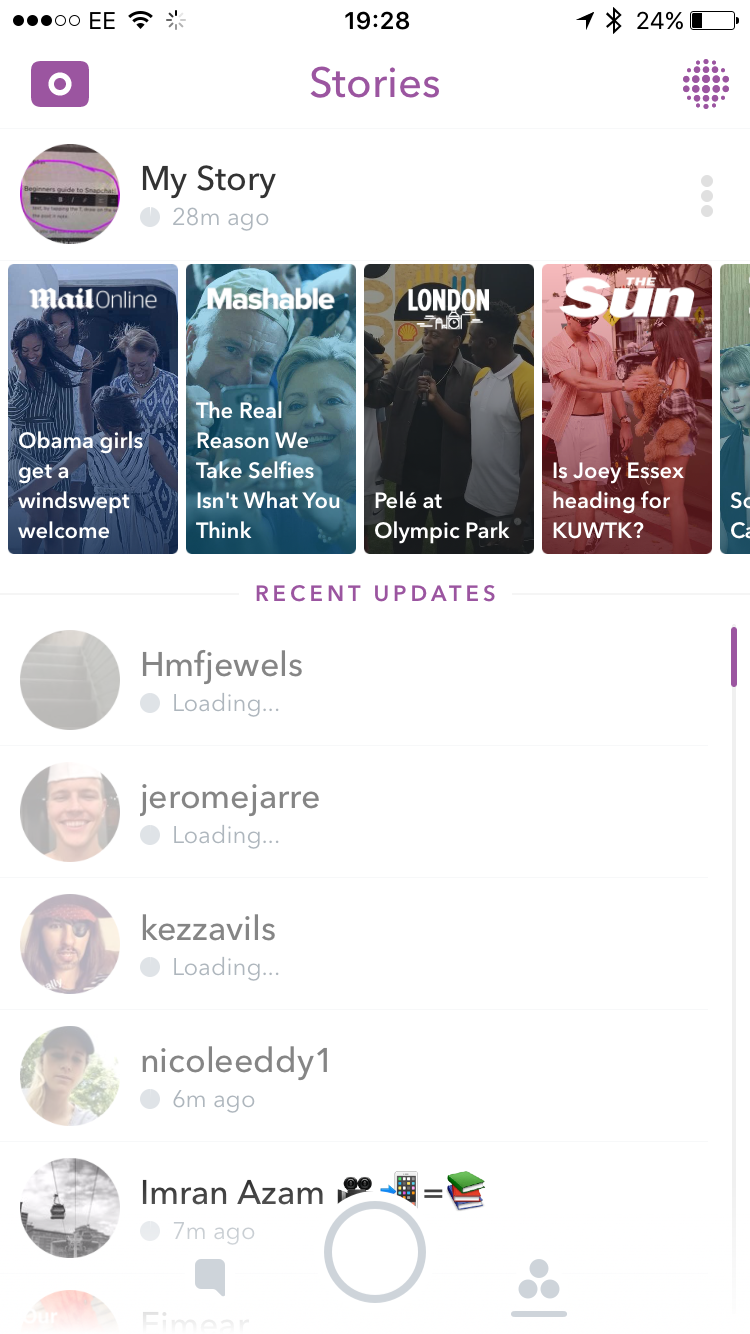 So you have sorted your settings now how to go about snapping, is pretty simple!
When you first go into snapchat you will be presented with the camera screen, this is one of three main screens that make up snapchat (swipe left or tap the speech bubble, to go to your messages or right to go to your stories feed, but from the camera screen you can choose one of two things
Take a Picture - tap the camera button at the bottom middle of the screen to take a picture.
Record a video - hold it down to record a video, snapchat will let you record for up to 10 seconds.
The camera function works the same way regardless if you are using the front camera or the rear facing camera. At any point by tapping on the camera icon in the top right you can switch between the two cameras or alternatively just double tap the screen anywhere.
Once you have taken a picture / video you will be presented with a preview now you can add text, by tapping the T, draw on the screen, by tapping the pencil or add a sticker by clicking on the post it note.
As you get used to these functions you can become more creative! Like this picture below, one of my favourite snapchatters is Mike Plato (MPLATCO) who produces things like this!
As well as the above you can select a filter by swiping the screen left or right!
Now a large number of people join snapchat for is the snapchat lens options available, you know the ones that make you look like a fox, a pirate or enable you to do the face swap thing! To activate this when on the camera screen, press the screen where your face is and the face mapping will appear, allowing you to select a number mapping of different (and comical or scary so be careful) lenses will become available.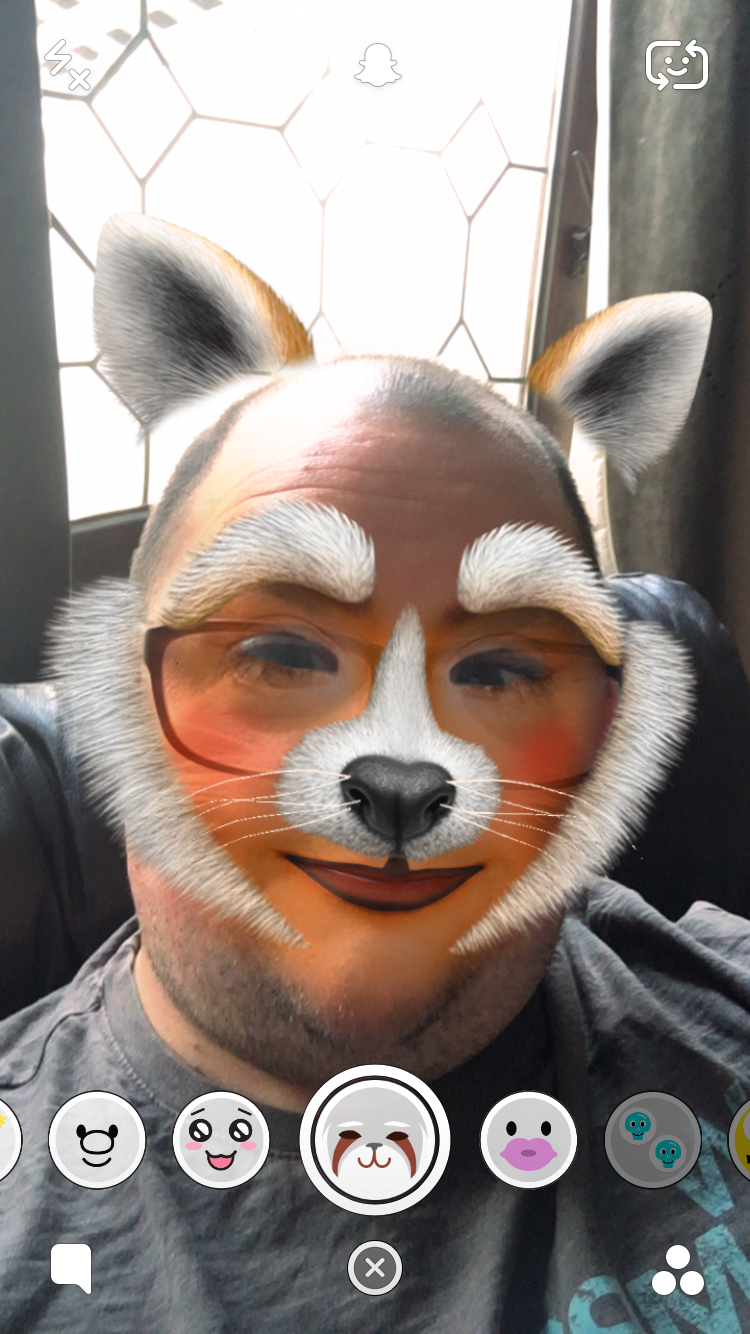 Now you know how the functions of snapchat work the best way to get to grips with it, like any social network is to through yourself in at the deep end and start using it!
Once you have taken a picture you can either save this straight to your story....... oh hang on you have no idea what this is!
Your Story!
This is where your snaps go, think of it as your twitter feed, except any pictures you take or videos you add to it will only stay there for 24 hours, after that they are gone, forever (unless someone screen grabs your photo!).
Once you have taken a picture or video, as I was saying you can select the small button at the bottom of the screen to add it straight to your story, on the bottom left you can also choose how long that picture will appear in your story (My Tip: Don't display for 10 seconds, 5-7 seconds is more than sufficient) .
Alternatively you can select the blue button at the bottom right and just send that picture to some contacts, you can also add this to your story but is also the easy way to send pictures just to your contacts.
Memories
Memories is a new feature from Snapchat, its an easy way to save Snaps and Stories on Snapchat. Think of it as your camera roll but just of your favourite snaps, to access Memories is very easy! Just swipe up from the Camera to open Memories!
Snapchat have added a very simple search function, like they show in the story below you can find what you're looking for by typing keywords like "dog" or "Hawaii" or as often in my case "food"!
You can use Memories to create brand new Stories from Snaps you've taken, or combine them with new stories, Snapchat have made it easy to tell what is from a Memory as it will appear with a frame around it so that everyone knows it's from the past, and I would expect Snapchat to add filters to these frames so they can be customised!
We realized that Snapchatters want to feel comfortable showing their Memories to friends while they're hanging out together, so we made it easy to move Snaps and Stories to My Eyes Only — and avoid awkward moments when a friend stumbles upon a Snap meant just for you.
Snapchat have tried to make it clear about privacy with the launch of Memories, they stated in a recent blog post that
"We won't backup any photos or videos from your Camera Roll, unless you use one to make a new Story or add it to My Eyes Only. In that case, we'll back up only the photo or video that you used."
Snapchat will be rolling out Memories selectively over the next month or so watch out for that Chat from Team Snapchat when Memories is ready for you to use.
But in the meantime check out this video about Memories
Chat
This is like your private inbox (DM equivalent for twitter) where it doesn't appear in your story, new features recently added let you call or video call your contacts form here also. You can just text or share private pictures already saved on your phone here.
Discovery / Subscriptions / Live
This area of snapchat will appear at the top of your Stories page also on its on page if you continue swiping past the stories feed, these are brands / news agencies and you will get used to looking at the brands or accounts you like! Some of them are providing great content here, and you can also send this content to friends if you think they will be interested!
I think that pretty much covers it, enough for you to get started at least, if you have any questions don't be afraid to tweet me or even better send me a snap! One thing worth noting you can share your snap code on social media just screen grab from your profile by tapping on it or if you type the following url just replacing the last bit with your username:
And Finally.....
To get you started apart from adding me I would suggest the following snapchatters that are well worth a follow for various reasons:
Any bloggers reading this shout out if you want me to add your snap code below...... ideally send it to me on twitter etc!